There are three different sizes you can choose between for your advertisement; single, double, and banner.
The footer advertisements will be located in a fixed pop up banner that appears at the bottom of the newsletter.
The side advertisements are located in the side panel of the newsletter.
The banner advertisements are located underneath the first article of the newsletter.
If at any point during your campaign you would like to discuss changing the zone of your advertisement, send an email to your salesperson for review.

Double Footer/Double Side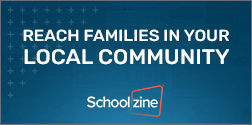 Double Footer/Double Side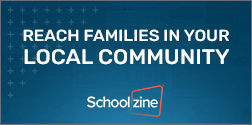 Included in your campaign package is free initial design set up. We can create your advertisement for you, using content you have provided. Typically we ask for advertisers to submit any of the following;
Business logo.
Contact information.
Services/business features.
Any offers you would like to include (P&C donations, discounts, referral incentives etc).
Images that can be used in the advertisement.
The website or email address you would like the ad to click through to.
If you don't have access to some of these items, or you're not sure what should be included, we can create an advertisement using content from your website. If this is the case, please email design@schoolzine.com and let us know the URL to your site, and we can create an advertisement and send you a design proof for feedback or approval.
Creating Your Own Artwork
Provided our Design team has received your files, we are happy to design an ad for you, but if you would like to create the artwork yourself, there are some requirements that need to be followed to ensure your ad is readable and accessible:
The advertisements need to be created to scale.

Text should be no smaller than 8 point size to ensure the readability of the information in your advertisement.
We can receive individual slides to put together as a gif advertisement. We can accept these files as JPEG/JPG, PDF, PNG or GIF.
If something is being repeated across multiple slides, make sure it is in the same place across all slides.

On this example the logo is bold and stands out on the advertisement. Keeping wording short gives you room to make things larger and more clear to the viewer. The Learn More button is in the same position across both slides.

On this example, the text used for the logo could be considered too thin for the given size. The URL on the first slide is using a font size smaller than 8pt, making it extremely difficult to read. Lastly, the Learn More button which is across two slides is in different positions. When the ad scrolls between images 2 and 3, the button isn't in the same position, making the slides look disjointed.

Approving Your Advertisement
Once you have received a proof of your advertisement via email, you can provide any feedback and changes you would like to make. If you're happy with the advertisement, please let us know by emailing design@schoolzine.com and we will set up the advertisement in the newsletter. During this process, you will also be subscribed to the newsletter to receive the future issues being distributed.
You will be able to update your artwork once a month for free. If you would like to have a seasonal offer, specific dates, or time sensitive information, we do ask that you take note of when the artwork will need updating and emailing a design update request to design@schoolzine.com.
We will be able to provide you with the impressions, clicks, and click through rate. If you would like to know how your campaign is performing, please email design@schoolzine.com and we can generate these stats for you. It is best to wait at least 3 months to allow for multiple newsletters to be sent out and more accurate data to be created.
For further information on the listed topics, your artwork or the set up of your advertisement, feel free to email design@schoolzine.com. For other enquiries related to your campaign(s), please contact your salesperson.