Publishing your Newsletter
Once your newsletter is ready to send to your community, you can login to your Control Centre and approve and distribute your newsletter all in one place.
Log into the Control Centre: Begin by accessing the Control Centre, where you'll log in using your designated credentials. This is your starting point for managing your newsletters and ensuring they reach their intended recipients.
Access eNewsletters:

Once you're logged in, navigate to the

"eNewsletters"

section, conveniently located in the left-hand side menu. This is where you'll find all your newsletters, ready for distribution.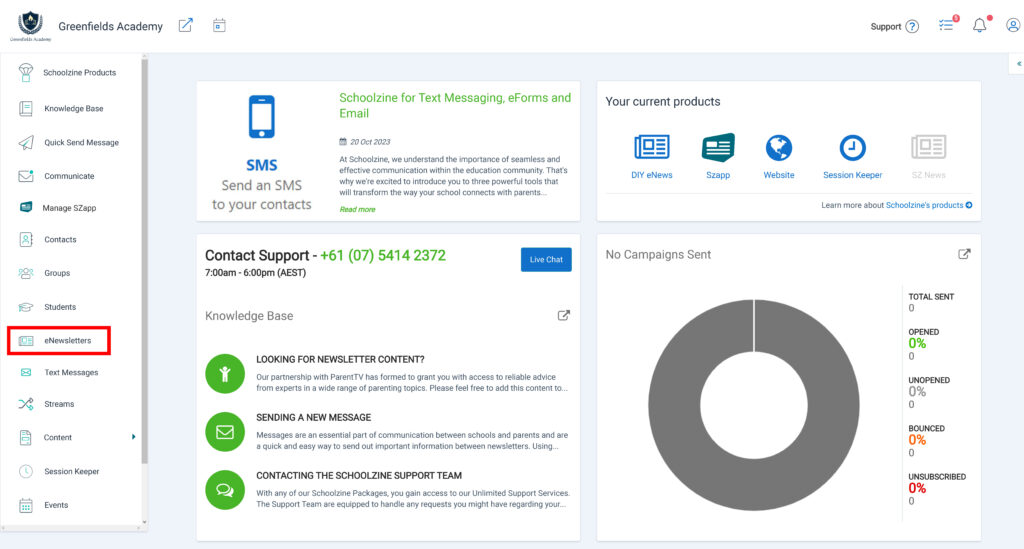 Choose the Desired Newsletter: From the list of newsletters available, select the one you intend to distribute. This step ensures that you're working with the correct newsletter.
Publish the Newsletter: Select the "Publish" Button to start the Approval Process. From the Pop Up, Select your Desired Date and Time for Archiving the Newsletter, and then click the "Approve Newsletter" Button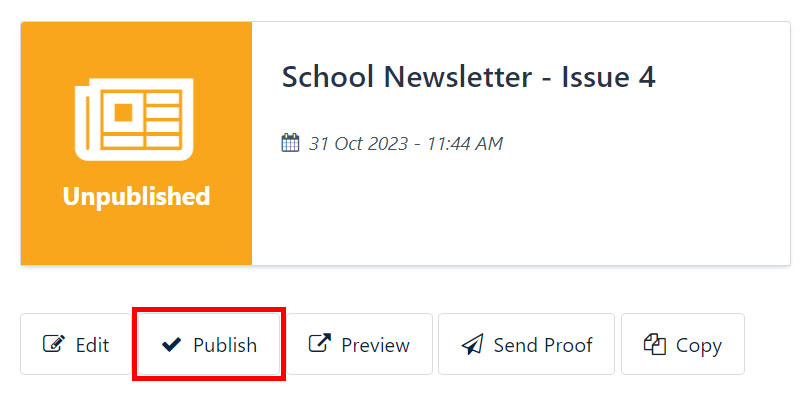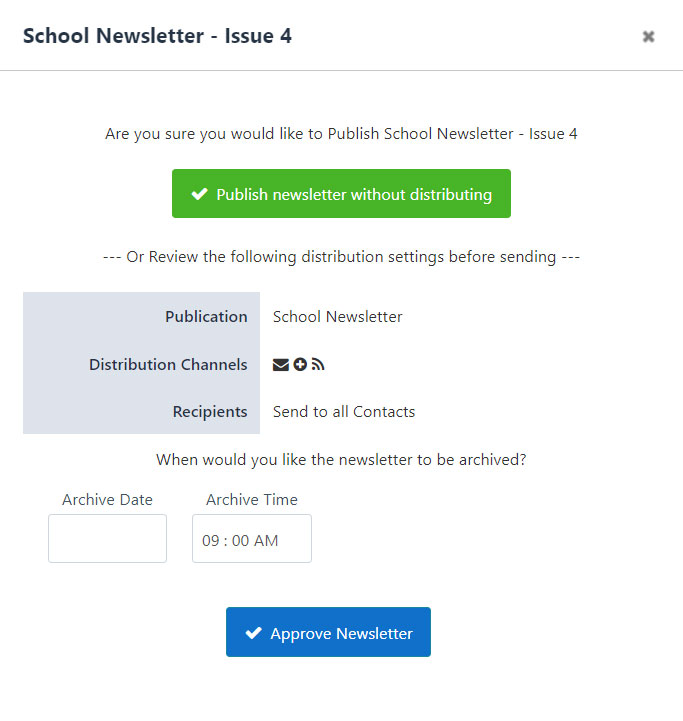 Internal Newsletter Distribution
If you are not using the Schoolzine Control Centre to Distribute your Newsletter, and instead are using another external platform, you are still able to distribute your newsletter by adding the URL to the messages that you send. To make this process seamless, follow these easy steps:
Preview the Newsletter: Before sharing it, it's always a good practice to preview the newsletter. By clicking the "Preview" button, you'll load the online version of your newsletter, allowing you to double-check its content and appearance.
Copy the Newsletter Link: In your web browser's address bar, you'll find the unique URL for your newsletter. Copy this link to your clipboard, as you'll need it for the next step.
Please note that you will need to get the Newsletter URL from the Preview Link in the above step

Utilize External Distribution Methods: Now that you have the newsletter link, it's time to share it. Paste the newsletter link into any external distribution method you are using. This step ensures that your newsletter is accessible to the right audience, whether it's through emails, messaging apps, or any other communication channel.
By following these straightforward steps, you can easily distribute your newsletter internally, ensuring that vital information is efficiently delivered to your school community.
Important Notes:
You can add the Newsletter anywhere you can add a URL using the above steps
If you are wanting to add the Newsletter as a PDF, you can use the "Print Newsletter" button from the Preview to load the PDF Version. Simply Save the PDF and add this to your External Distribution Method
Your Preview Link should like similar to this –
https://example.schoolzineplus.com/enews?nid=1
If it instead looks similar to this –
https://example.schoolzineplus.com/enews?nid=17&preview=true&token=65405c242c8f6&obj_id=1
It could mean that your Newsletter has not been published correctly. You can follow the steps outlined previously in this guide for Newsletter Publishing